When the numbers aren't showing an increase in website traffic, website owners are often tempted into trying some of the widely-known black hat SEO techniques to improve their ranking. It was a common theory that adult websites won't be penalized if they use black hat SEO techniques, but Google's John Mueller thinks otherwise.
There are many discussions on online forums regarding this question and many SEOs have given out advice that it's safe to use black hat SEO techniques to boost rankings on adult websites. You won't find these discussions on forums open to the public but rather on forums that are for registered members only. Some SEOs are probably even talking among themselves and some are probably encouraging others that black hat SEO techniques are unnoticed on adult websites.
Recommended Reading – How Can Adult Models Make Money Online?
Most Commonly Used Black Hat SEO Techniques On Adult Websites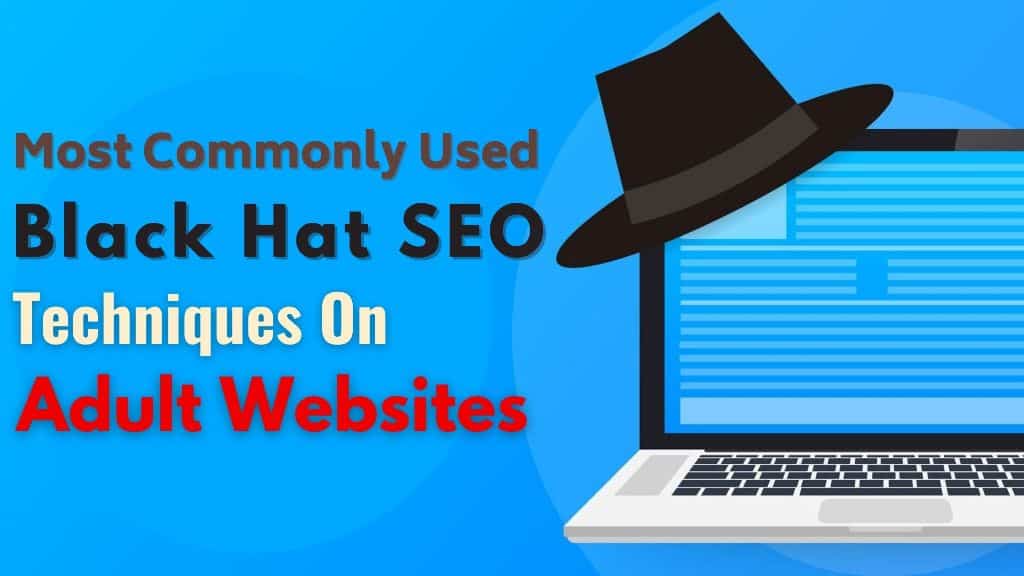 ---
Even though Mueller recommends that every website owner should stick to the Google guidelines when it comes to SEO, many are still using black hat techniques. Some get caught sooner, some get caught later, some don't get caught at all, but it's worth knowing that there are serious consequences if you decide to use techniques outside the Google guidelines.
The most popular black hat SEO technique used to quickly rank an adult website is keyword stuffing. For regular websites, keyword density should be from 1% to around 3%, not more, not less. Adult websites are specific and most of the content on these types of sites is non-textual. Keyword stuffing can give pretty quick results but it's one of the techniques that's most used around the world and Google can quickly find it and penalize you for it.
Another technique that's widely used for the adult niche is buying backlinks. Because it's a specific category of websites, it's pretty difficult to get quality backlinks for these sites. Buying backlinks was a great SEO technique before, but now it's not as much. Many webmasters still think that buying backlinks is a good idea and that Google won't mind, but because they're working on improving their security and algorithms constantly, it's pretty obvious that buying backlinks will backfire almost every time. The problem with this technique is that people buy hundreds of backlinks from websites that aren't in the same or similar niche. It would be crystal clear to anyone that an adult site link appears on a gardening blog or pet care website, right?
When it comes to black hat SEO techniques, cloaking is probably one of the worst things you can do. If you're not familiar with this technique, it's basically serving two different URLs for the same page, or simpler, showing search engines what they want to see and showing visitors a different type of content. It's a common black hat technique for adult sites, but one of the riskiest ones as well.
There's one technique in the wide variety of black hat that doesn't have anything to do with the site you want to rank. It's called negative SEO and it's focused on bringing down the rankings of your competitor websites. Even though this technique isn't used widely anymore, and Google has significantly improved its algorithms to ignore these kinds of cyberattacks, it's important to check your links from time to time. There are a couple of well-known services out there that can help you with exactly that!
There are many more black hat SEO techniques out there and the more people get creative, the more techniques you'll come across that violate Google's guidelines. John Mueller has emphasized that black hat techniques are bad for any type of website and that long-term, it will be much more harmful than helpful.
Also Read – Building Adult Websites Using WordPress
Reasons To Avoid Using Black Hat SEO Techniques On Adult Websites
---
Many industries which include adult sites, casinos, betting, medicine, and such often include black hat SEO techniques which seem to go unnoticed by Google. This is the reason why people think it's alright to use the same techniques to rank their websites as well, but you can never know when will Google notice these forbidden techniques. Some of the websites that are highly-ranked because of black hat techniques are listed on the first page because there's just no one else to rank for the keywords. The same results would have been achieved with regular SEO techniques as well but it would have taken more time.
The worst thing that can happen to your website if Google finds out that you've used black hat techniques is that it can lead to much lower search rankings and it can even lead to your website disappearing from search results altogether. This happens because the techniques used to rank a website are in direct violation of Google's (and other search engine's) terms of service.
Black hat techniques have a short-term effect on the search rankings. If you think about it, is it really beneficial to rank your website for a few weeks or months after which you'll most likely get penalized, or you want your website to rank well in the long run?
John Mueller has said that he can't forbid using black hat SEO techniques entirely, but he recommends sticking to Google's SEO guidelines because you'll get the best results. Even if Google doesn't find out about the use of forbidden techniques, visitors will notice that the content isn't what they were searching for and the analytics will show that they aren't finding exactly what they were searching . If you rank for a specific keyword and people leave your website in only a few seconds after discovering your website, your rankings will quickly deteriorate because it's more than obvious that you're wrongly ranked for that specific keyword.
No matter what kind of website you have, you can get two types of penalties from Google. Neil Patel has described these penalties descriptively, but in short, you can get penalized by Google itself (algorithmic penalty) or by Google's staff that manually check suspicious websites.
Also Read – SEO Content Tricks to Boost Your Adult Website's Ranking