Turn your adult website into a lucrative one by avoiding below mentioned ten worst adult SEO blunders.
SEO or search engine optimization is one of the major requirements in today's competitive era. The online adult market is growing rapidly, and therefore, to survive in such high competition, one needs to stand out with the right strategies and adult SEO road maps. The demand for adult SEO is increasing day by day, and so do its opportunities.
If you are planning and following adult SEO strategies effectively and consistently, you will notice an increase in your revenue from your online adult business. It would help if you kept yourself updated with the google algorithms and analytics to follow the right adult SEO strategies.
You should also keep in mind various other digital marketing plans to ensure the healthy development of your online escort business. Search engine analytics and rules keep on changing as per the evolving demands of consumers. Hence, SEO practices also evolve.
This is why even web admins are likely to make SEO blunders if they are not updated with the recent evaluations of search engines. And when you are making a mistake in adult SEO, it will cost you a lot of time and heartache to recover.
Therefore, to ensure that you avoid such escort SEO blunders, we have got a complete list of the ten worst mistakes an adult SEO expert makes. It will help you avoid such mistakes and be careful about your escort SEO practices. These adult SEO mistakes which you must consider are mentioned below:
Not knowing your audience.
The adult market is evolving day by day. It attracts numerous people every day, and each of them has unique desires and fantasies. You can do adult SEO only when you have your target audience in your mind. Most adult SEO practitioners do not know their target audience, and that's where they fail.
SEO is done based on the requirements of consumers or customers. And when you are not aware of your consumers, how are you supposed to develop effective adult SEO techniques? While doing keyword research for your adult website, you should not ignore long-tail keywords, as adult consumers mostly use them.
You should predict your consumer's behaviour and understand what could be the keywords they are going to use to search for adult content on search engines. Using those keywords to maintain your escort SEO practices will help you stand out among the crowd of various adult businesses in the online market.
Some major tips you can follow to understand adult consumer's behaviour are as follows:
Look for the macro trends in the adult entertainment market where your consumers are dedicated.
To understand consumers' behaviour, look for the historical and real-time data and analyse how their behaviour changes towards adult content.
Utilise your information gathered from consumers' behaviour analysis while stressing keyword research.
Use essential and effective keyword research tools available on google to get the most productive set of keywords to perform adult SEO on your escort website.
Not having an escort SEO plan and roadmap.
Knowledge looks like a waste if not channelized in the right direction. If you know about your adult market audience, taking little steps or random actions on weekends might not be beneficial. Most adult businesses do not build or execute adult SEO strategies, from numerous large escort businesses to small individual-based escorts websites.
The recent data shows that approximately 36% of escort businesses have used SEO strategies in the last few years. Therefore, an effective adult SEO strategy is essential to get a successful ticket in the online adult market. Sometimes these strategies fail, as numerous stakeholders are the basis of your SEO strategy. These are your escort services, content, adult merchandise, website structure, technology usage, etc.
Hence, you must have expertise in adult SEO to ensure success. If you do not have an SEO strategy that is the blueprint to your success in the adult market, you must build one now. Check on your competition and learn how they have all planned their SEO practices. Learn about their strategies and understand where you want to stand in the adult market. Once you have a plan and targeted goal, you can get your practice directed towards the right path.
Some helpful tips to prepare your adult SEO roadmap are as follows:
Evaluate your competition, how they are ranking their website, content, keywords.
Work on major aspects and list them down to prepare small-time goals.
Prepare an effective content strategy, site updates, structure, etc.
Get the essential tools and platforms that will help you execute your adult SEO strategy.
For example, if your adult strategy links your adult site to various other porn platforms, you should look for such platforms and have a profile there to add your adult website link in your bio. OnlyFans, PornHub, YouPorn are some of the major adult platforms that can help you market your adult website and enhance your revenue.
Creating invalid adult content
The next major adult SEO mistake is not updating the right content on your adult website. For example, adult consumers look for high-quality videos and adult photographs, but you only have adult stories on your website. All your adult SEO strategies will fail in such circumstances as your audience will not get the desired content. Keywords also play a crucial role in marketing your adult content on search engines.
If you have adult content on your website that does not include effective and relevant keywords, all the escort's SEO practices will look ineffective. Search engines want to give relevant and required content to their consumers. And when your adult website does not have such content, you will lose your ranking. These issues can happen due to the following blunders:
Multiple keywords are optimised in one content piece.
Low-quality content is created for the sake of keywords.
You mentioned different topics in a single piece of content.
Avoid above mentioned content creation mistakes to ensure effective adult SEO for your escort website. Your priority should be fulfilling the requirements of your targeted audience; hence, align your content as per their needs and rank your website on the top of search engines with effective adult SEO practices.
Publishing non-original content
Copying or plagiarism is one of the major SEO mistakes you can make while performing SEO for your adult website. Copied content is highly discouraged on search engines and can cost you a huge cost to recover the loss. Instead of copying or spinning the content, it's worth investing your time in writing and publishing unique content.
It will get back your escort website on top search engines' search results. Content quality is necessary to get desirable results from adult SEO. Some tips you can follow to get the best content for your escort websites is listed below:
Use strong and attractive headings that match the theme of your adult content.
Use convincing content that answers your audience's questions and convert them to your paid subscribers.
Come up with a genuine and authentic porn story that looks real and attracts your audience's attention.
Your audience should find your content trustworthy.
Be creative while posting your content. Enhance its value by adding sensual videos and pictures.
Skipping Title Tags & Meta Descriptions
Optimising content does not mean adding only keywords, but title tags and meta descriptions also play a crucial role in ranking your adult content. A meta description is one of the significant parts of adult SEO. It has huge potential to make your adult SEO strategies successful. These optimizations are checked by search engines and make your content visible at the top of the search results, hence, fulfilling the purpose of escort SEO.
Some tips to get effective title tags are meta disruptions are as follows:
Write unique and specific title tags for each adult content you publish on your porn site.
Keep title tags brief but descriptive. It should not look vague but convey the essence of your adult content properly.
Use the relevant keyword in the meta description and ensure its correct placement.
Look at top-ranking adult title tags and meta descriptions of highest ranked porn websites on search engines. It will help you understand the requirements of search engines and develop effective adult SEO practices.
Also Read: SEO & Marketing Tips for Your Escort Website/Business
Missing quality links
Many adult SEO experts focus on the number of external links and avoid the quality. This is another major mistake they make while performing adult SEO on escort websites. An adult SEO expert is the one who understands the importance of quality external linking and ensures relevant links with well-structured top ranking websites instead of just linking with any website just for the sake.
Anchor text is another major aspect of linking which is often overlooked while performing adult SEO. Anchor text should be informative and allow users to understand the importance of the link attached to it. Hence, use effective and unique anchor texts and avoid spamming.
Going Astray with Your Internal Links
Internal linking is as important as external linking, and SEO experts should not overlook it. Link your top-ranking pages with other channels and enhance the overall value of your adult content. But make sure that all the internal links are relevant to the topic of your adult content. It should not be just for the sake. To perform effective adult SEO, you must avoid extra and unnecessary internal linking as you avoid keyword stuffing.
Unnecessary internal linking is discouraged by adult content consumers and not favoured by search engines. It might be considered fraudulent and can put your website in spam. Hence, perform internal linking in your escort website effectively and efficiently.
Overlooking mobile-friendly websites
Adult SEO is more about your website structure and the quality of its performance. These days, the value and importance of mobile-friendly websites have increased. Google looks at mobile-first indexing, and when your website is not mobile friendly , google easily catches it and disregards it. Due to this, all your adult SEO opportunities get wasted. Similarly, the speed of your adult website also plays a crucial role.
Not integrating adult SEO across digital channels.
Modern-day SEO techniques are more integrated with digital marketing. If you avoid interlinking your adult SEO process with social media channels and digital marketing techniques, you might lose potential revenues. Adult SEO requires support from various digital marketing channels such as email marketing, PR, paid promotions, etc. Hence, keep a constant connection with different digital marketing channels internally and externally.
Not regularly examining analytics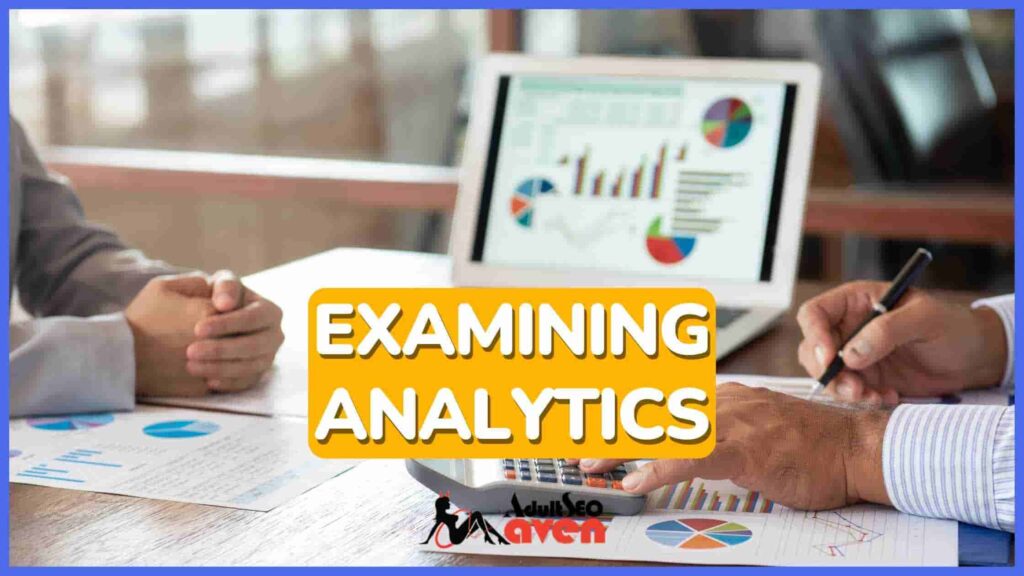 A crucial way to check your progress is to keep checking it regularly. If you are not aware of whether your adult SEO strategies are effective and serve their purpose, you will not be able to check your progress. Hence, adult SEO experts often make a mistake in overlooking analytics. They do not examine the process of their website and how it is ranking on Google.
If there is no progress, then there is a chance that something is still missing in your SEO strategy. Whereas google analytics is crucial as it will let you know the changes and updates search engines have brought to rank escort websites. Analytics can be helpful in numerous ways if performed regularly and utilised efficiently.
At the glance
Adult SEO is challenging, but it can bring huge opportunities to make money online with adult content. You can do it easily once you have learned about various escort SEO tricks. But never get overconfident as even web admins make mistakes and get into huge chaos. The digital market keeps on changing and evolving. Therefore, keep polishing your adult SEO skills and learn from your mistakes to not to repeat them.
A small escort SEO mistake can make you pay a huge amount for recovery. Hence, the above-mentioned list of the 10 worst adult SEO mistakes can help you avoid them and ensure effective and efficient SEO practices in your online escort business.
Also Read: What is "NSFW" and when and why should adult websites use it?